EU begins collective gas buying
More than 100 firms are expected to participate in joint LNG purchases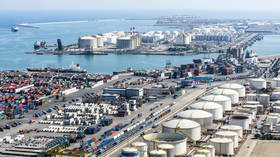 The European Commission has published its first international tender for the collective purchase of liquified natural gas (LNG) through a new EU mechanism, its vice-president for interinstitutional relations, Marosh Shefchovich, said on Wednesday.
According to the official, the first tendering round is open until May 15, and covers gas deliveries from June 2023 until May 2024 with 77 companies from across the EU having submitted requests for a total volume of around 11.6 billion cubic meters (bcm) of gas.
He added that demand for the super-chilled fuel was hovering around 2.8 bcm, while nearly 9.6 bcm has been requested for delivery via pipeline.
"This is a historic milestone – because, for the first time ever, we are leveraging the EU's collective economic weight to increase our energy security and tackle high gas prices," Shefchovich said.
The bloc's executive arm is expected to launch tenders every three months, he said, highlighting that the response of the market to the first one had been "positive and encouraging."
"Some 107 companies have so far subscribed to participate in joint gas purchasing via the recently created AggregateEU mechanism, and more companies are in the process of doing so," Shefchovich added.
The AggregateEU mechanism, which is seen as a new marketplace to trade gas in the region, was launched by the Commission in April. EU lawmakers expect the tool to help bloc members to jointly refill gas stores for next winter and strengthen energy security in the region.
The new tool is "clearly a win-win" for both EU customers and international suppliers of natural gas, according to Shefchovich, who also said it would help the industrial sector, including energy intensive corporations, to establish new commercial relations with alternative gas suppliers amid the EU's attempts to phase out Russian imports.
For more stories on economy & finance visit RT's business section
You can share this story on social media: