Putin compares Russian and Western debt
Russia has a healthy level of state debt and inflation, according to the president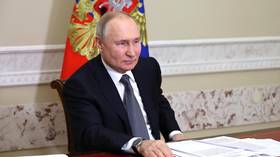 Russia is in better economic shape than many large Western nations in terms of inflation and the level of sovereign debt, President Vladimir Putin said on Thursday.
During a working meeting with Economy Minister Maksim Reshetnikov, Putin noted that Russia's state debt is only a fraction of its gross domestic product.
"It's 121.7% [of GDP] in the US, the eurozone's debt amounts to 90.9%, Germany's and France's total 66.5% and 111.1% respectively, Russia's 14.9% is a well-performing indicator," the leader stated.
Putin also drew attention to the rate of inflation in Russia, noting it is low compared to numerous other countries – including in the West.
"As of March, [inflation] is 3.5% in Russia, 7.4% in Germany, the euro area as a whole recorded 6.9%, while inflation in France and the US amounted to 5.7% and 5% respectively," Putin pointed out.
Central bank data cited by Russian media in March showed that the country's foreign debt has dropped to its lowest level since 2007. It reportedly decreased by 21.1% last year to $380.5 billion, representing a fall of $101.8 billion.
For more stories on economy & finance visit RT's business section
You can share this story on social media: