Bank of Russia raises economic forecast
The regulator expects the country's GDP to increase by up to 2% this year and return to 2021 growth levels next year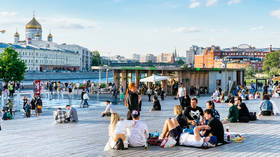 The Bank of Russia kept the key interest rate unchanged and improved the country's economic growth forecast at a regulatory meeting on Friday.
The key rate has been kept at 7.5% amid falling inflation and lower inflation expectations, as well as the swift growth of economic activity. The rate has remained unchanged since September of last year.
"Economic activity is growing faster than the Bank of Russia assumed in February's forecast. This reflects both an expansion in domestic demand and the ongoing processes of transformation of the Russian economy… Growing domestic demand is supporting an improvement in business sentiment despite persistently challenging external conditions," the regulator said in a statement.
The central bank also improved its inflation forecast for 2023. It had previously predicted prices to rise by 5-7%, but now anticipates a more moderate increase of 4.5-6.5%. The expectations for 2024 remained unchanged at 4%.
"Current rates of price growth have increased since late 2022 but remain moderate, including in the stable components of inflation. Inflation expectations of households are down. They nevertheless remain elevated, as do businesses' price expectations," it said.
The regulator noted that it now expects the Russian economy to grow by up to 2% this year as the country grows accustomed to operating under tighter Western sanctions. Under the previous scenario in February, the regulator envisaged a change in GDP from negative 1% to 1% for the year. The GDP growth forecast for 2024 and 2025 remained unchanged at 0.5-2.5% and 1.5-2.5%, respectively.
"This means that by the end of 2024 the Russian economy will reach the level of late 2021," the regulator added, referring to the period that preceded the start of Russia's military operation in Ukraine and the ensuing Western sanctions.
For more stories on economy & finance visit RT's business section
You can share this story on social media: