Russian oil shipments up despite production cut – Bloomberg
Moscow has pledged to reduce output by 500,000 barrels a day in response to Western sanctions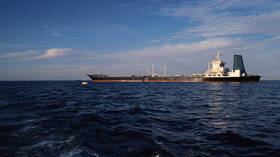 Aggregate flows of Russian crude jumped to 4.08 million barrels per day (bpd) in the seven days to April 28, despite the Western sanctions and Moscow's output cut, Bloomberg reported on Wednesday citing tanker-tracking data.
The exports reportedly exceeded 4 million bpd for only the second time since the start of 2022.
According to the report, shipments via the Baltic Sea, Black Sea and Pacific were all higher, with flows via the Arctic unchanged from the previous week. The figures excluded volumes from Ust-Luga and Novorossiysk, identified as Kazakhstan's KEBCO grade, it said.
Bloomberg pointed out that the seaborne flows are still not reflecting a production cut, which according to the Russian Energy Ministry was 700,000 bpd in March. The government earlier pledged to curb output by 500,000 bpd between March and December in retaliation to Western trade restrictions and a price cap imposed by G7 nations.
"It doesn't appear that refinery runs in Russia have dropped much either," the outlet wrote, noting that the figures show processing rates have remained virtually unchanged from the start of the year and, in the first 19 days of April, were 720,000 bpd higher than the same full month of 2022.
Moscow has also stopped publishing crude and condensate production data, which makes it more difficult to assess the output cut, Bloomberg noted.
Data showed that Russian crude flows in the week to April 28 surged by about 680,000 bpd from the previous week.
The combined volume of crude on vessels heading to China and India, plus smaller flows to Türkiye and "quantities on ships that haven't yet shown a final destination," reportedly rose for a third week to reach a record 3.39 million bpd in the latest four-week period.
Meanwhile, no Russian crude was shipped to northern European countries in the four weeks to April 28, according to the report.
Statistics showed that Russia's seaborne crude exports to European countries slid to 63,000 bpd in the 28 days to April 28, with Bulgaria remaining the sole destination.
"A market that consumed more than 1.5 million barrels a day of short-haul crude, coming from export terminals in the Baltic, Black Sea and Arctic has been lost almost completely, to be replaced by long-haul destinations in Asia that are much more costly and time-consuming to serve," Bloomberg wrote.
Russia has been diversifying its energy supplies in response to Western sanctions since the EU stopped accepting the country's oil transported by sea. Deputy Prime Minister Aleksandr Novak revealed this week that Moscow will reroute more than 60% of its oil and petroleum products exports from the EU to Asia this year. According to Novak, of the 220 million tons of crude and refined products previously destined for the EU, Russia will reorient 140 million tons to Asia.
According to the report, the equivalent of 720,000 bpd was carried on vessels showing destinations as either Port Said or Suez in Egypt, or which already have been or are expected to be transferred from one ship to another off the South Korean port of Yeosu. "Those voyages typically end at ports in India or China and show up in the chart below as 'Unknown Asia' until a final destination becomes apparent," it said.
Russia and India are currently discussing the creation of "joint re-insurance institutes" for oil shipments, according to Russian Deputy Prime Minister Denis Manturov, who said such entities could be set up before the end of the year. Meanwhile, Novak has stated that Russia needs new insurance and reinsurance mechanisms for its oil exports.
For more stories on economy & finance visit RT's business section
You can share this story on social media: