Russia overtakes US in fertilizer production – official
Output has surged by 40%, the head of the country's trade body says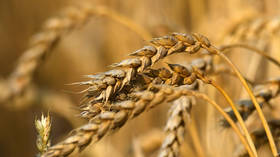 Russia has become the world's second-largest producer of mineral fertilizer, Andrey Guryev, the head of the Russian Association of Fertilizer Producers, said at a meeting with President Vladimir Putin on Thursday.
According to Guryev, output has increased by 40% over the past decade to 55 million tons a year. During the same period, the volume of fertilizer supplies to the domestic market grew 2.5 times to 13.2 million tons – a record for the country, he noted.
"We overtook the United States, India in production and today we are the largest producer of mineral fertilizers in the world after China," he said, adding that the country plans to boost output to 70 million tons over the next five years.
Guryev noted that Russia is the world's largest exporter of fertilizers, supplying around 38 million tons a year. According to the International Fertilizers Association, at the start of 2022, Russian exports accounted for 15% of global fertilizer exports, followed by China (13%) and Canada (7%).
The official noted, however, that exports dropped by around 15% in 2022 against the previous year. He attributed the decline to the Ukraine-related Western sanctions and "all the problems for exports" they have caused. While Russian agricultural products have not been targeted directly by sanctions, the restrictions have resulted in a variety of problems for the country's exporters due to the large quantity of shipments blocked in European ports.
Removing obstacles to Russian fertilizer exports is part of the Black Sea grain deal, a UN-Türkiye-brokered agreement reached last summer to help export Ukrainian and Russian agricultural goods. The deal has already been extended several times and is set to expire on May 18. However, Russia has repeatedly stated that the part of the deal that refers to its agriculture and fertilizer exports has not been implemented, warning that it may suspend its participation in the agreement if the situation does not improve.
President Vladimir Putin said on Thursday that sanctions that jeopardize Russian fertilizer exports have already hurt a number of countries that depend upon them.
"Sanctions were imposed by countries that do not particularly need our fertilizers, and the developing markets now suffer from it. They imposed sanctions against us, but the developing markets of Africa, Latin America, Asia suffered the most," he stated, adding that the "failure to put fertilizers in the soil leads to a decrease in the harvest," which may result in food shortages and a spike in food prices worldwide.
For more stories on economy & finance visit RT's business section
You can share this story on social media: