France to work with Russia on nuclear project – Le Monde
The French firm Framatome has reportedly been cleared to supply equipment to a Rosatom-led project in Hungary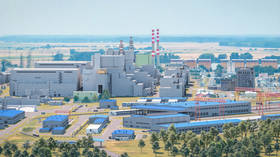 The energy transition ministry of France has agreed to allow Framatome, a nuclear energy subsidiary of Électricité de France (EDF), to participate in the construction of two reactors at the Hungarian Paks-2 nuclear power plant alongside Russian nuclear giant Rosatom, Le Monde reported on Thursday.
According to the report, the issue of Framatome's participation in the construction of the project was extensively discussed last month during a meeting between French President Emmanuel Macron and Hungarian Prime Minister Viktor Orban. The matter is controversial due to EU sanctions against Russia. However, "to date, the European sanctions do not target the [Russian] nuclear industry. If French actors wish to engage in partnerships with other European actors, we are not going to prevent them from doing so," a source close to Agnès Pannier-Runacher, France's minister of energy transition, told the newspaper.
"French players in the nuclear industry support our European partners, and in particular Hungary, in all their approaches and in all the projects they carry out on their soil as long as they strictly respect the European framework of international sanctions," the source added.
Le Monde sources noted that Paris and Budapest share "a strong belief in nuclear energy" despite disagreements on other issues on the EU agenda. Framatome declined to comment on the report.
Last month, Hungarian Foreign Minister Peter Szijjarto said his country might increase the role of France's Framatome in the project, following problems with another supplier, Germany's Siemens Energy. Both companies had been contracted to supply control systems for new reactors at Paks-2 as part of a French-German consortium.
However, the participation of Siemens in the project is currently being blocked by Berlin in the context of Ukraine-related sanctions and Germany's ongoing nuclear phase-out. Siemens Energy recently confirmed that its application for an export license to supply technology and equipment to Paks-2 is still pending.
The Paks-2 project was launched in 2014 under an agreement between Hungary and Russia. It envisaged the construction of two nuclear reactors by Rosatom and a Russian state loan to finance the majority of the project. The four existing reactors at Paks were brought online between 1982 and 1987, and produce about half of the country's electricity.
For more stories on economy & finance visit RT's business section
You can share this story on social media: