Hungarian FM accuses Germany of hampering crucial project
Berlin's behavior is "unacceptable," Peter Szijjarto said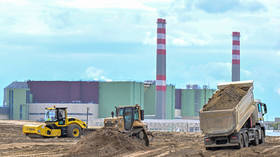 Ministers from the Alliance 90/The Greens party in Germany's coalition government are blocking work to modernize a key nuclear power plant, Hungarian Foreign Minister Peter Szijjarto has claimed. Upgrades at Hungary's Paks nuclear facility, which produces half of the country's electricity, are being carried out by Russian nuclear agency Rosatom and a number of European firms.
France's Framatome and Germany's Siemens Energy were contracted to supply control systems for new reactors at the facility, but haven't done so due to opposition from Berlin, Szijjarto stated during a press conference on Friday.
"The French export authority has granted Framatome permission to supply the control systems, but two Green ministers in the German government – the economy and foreign minister (Annalena Baerbock and Robert Habeck) – are blocking the issue of similar permits to Siemens Energy for the time being. This is unacceptable," he said.
Szijjarto stressed that sanctions imposed on Russia over the conflict in Ukraine do not currently restrict EU cooperation with Moscow on civil atomic energy. According to the minister, Baerbock and Habeck are throwing roadblocks in front of the Paks 2 project purely for "political or ideological reasons" that have "no legal basis."
He also pointed out that Hungary does not possess rich oil and gas deposits, which makes the nuclear power plant essential for its energy security.
"We have been using nuclear energy for four decades. We signed a contract with Rosatom to build new reactors nine years ago, and the Hungarian people have already paid the price for the war next door," Szijjarto said, referring to the conflict in Ukraine.
Also on Friday, Hungarian Prime Minister Viktor Orban warned that Budapest "will not allow the [EU's] plan to include nuclear energy in the sanctions to be implemented." Any attempts by Brussels to impose restrictions on cooperation with Russia in the area "must obviously be vetoed," Orban insisted.
Earlier this week, Szijjarto said Ukrainian Foreign Minister Dmitry Kuleba had called upon the EU to include the Russian nuclear sector in its next sanctions package. The Hungarian foreign minister said that, while some of the bloc's members support the idea, it would never be accepted by Budapest.
You can share this story on social media: