Western sanctions have 'boomeranged,' Russian finance minister tells RT
The EU's short-sighted policy is hurting the bloc more than Moscow, Anton Siluanov claims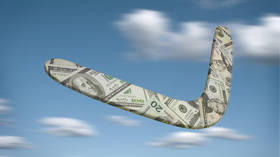 The West is running out of options for targeting Moscow after multiple rounds of sanctions backfired instead of crippling the Russian economy as intended, Finance Minister Anton Siluanov told RT on Monday.
"All these restrictions have boomeranged," he argued, noting the worsening cost-of-living crisis in Western countries, soaring inflation, and a decline in living standards. "Therefore, these countries are pursuing a short-sighted policy, introducing regular packages of restrictions and sanctions," Siluanov added.
According to the finance minister, Russia is pursuing an independent policy, trying to minimize the impact of the restrictions that are being introduced against it.
"Therefore, we are developing our financial independence in the face of a tight budget and budgetary rules, targeted inflation," he said, noting that the Russian government is also seeking independence in terms of payment instruments, including with the help of its Mir card and the domestic National Payment Card System (NSPK), as well as seeking to achieve technological sovereignty.
"When Western countries introduce new packages of restrictions, we take anti-sanctions measures and we see that we are succeeding," Siluanov insisted, adding that the Russian economy would reach positive growth rates this year.
He also pointed to low inflation, which is lower than in Western countries, and the lowest unemployment rate, adding that real wages in Russia are growing. "Therefore, our policy of responding to the sanctions packages is yielding results, we see that we are headed in the right direction," he said.
According to Siluanov, there's a change in global geopolitical formations, where countries with developing economies are squeezing out the so-called developed nations, with the latter introducing various restrictions and sanctions, including in settlements. However, those restrictions have diminished global confidence in the US dollar and the euro, he claimed. Russia has also been forced to replace settlements in so-called 'freely convertible' currencies with settlements in 'reliable' currencies. "For us, a reliable currency is the national currency, and the currencies of friendly countries that have no problems in transferring money for goods and services supplied."
Commenting on Russia's push for de-dollarization, Siluanov explained that the abandonment of the dollar and the euro is proceeding gradually. "We do not set ourselves the task of giving them up tomorrow, we use them, but we are trying to switch to more reliable units of account," he stated. The finance minister noted that Russia and China are settling about 70% of their economic transactions in their national currencies and will continue to do so.
For more stories on economy & finance visit RT's business section
You can share this story on social media: