Kremlin warns of global economic crisis
Sanctions on Russia have had a major negative impact on the world economy, spokesman Dmitry Peskov has said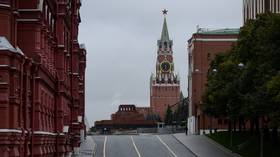 Sanctions imposed on Russia are pushing the global economy closer towards a major crisis, Kremlin spokesman Dmitry Peskov claimed on Friday. The official was commenting on reports that G7 members are considering a near-total ban on exports to Russia.
"We realize that the US and nations in the EU are considering new, additional sanctions," Peskov told journalists when asked about the potential G7 embargo.
"All sanctions which have been imposed on our nation, and new moves which may be under consideration at the moment in Brussels and Washington, will certainly hit the world economy too," he added. "That can only exacerbate the trends towards a world economic crisis."
Bloomberg reported on Thursday that G7 nations were finalizing a proposal for a blanket ban on exports to Russia, unless waivers are granted in certain areas. Exceptions could be offered for medicines, food, and agricultural products, the news agency's sources said.
G7 countries are attempting to get all members of the EU on board with the plan, Bloomberg said. The club includes Canada, France, Germany, Italy, Japan, the UK, and the US, three of which are also members of the European bloc.
The EU joined the US-led effort to punish Russia with economic sanctions over the conflict in Ukraine and imposed 10 rounds of its own restrictions. But it has reportedly run out of options for further moves, with the next batch under consideration said to be focused on the enforcement of existing sanctions.
Meanwhile, member states have faced public discontent over the toll the policy has taken on their own economies. The push to decouple from the Russian market has spurred inflation in the EU, discouraged European manufacturers from selling their products in Russia, and undercut revenues from Russian tourists, among other effects.
Peskov said that Moscow was "adapting" to the unprecedented Western pressure and has made development plans that account for the threats it poses.
You can share this story on social media: