Pakistan places first order for Russian oil – official 
Moscow will sell crude to Islamabad at discounted rates, the Pakistani petroleum minister has said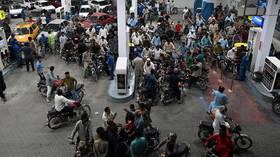 Pakistan has placed its first ever order for Russian crude as it seeks cheaper energy options in the face of macroeconomic challenges, the country's petroleum minister, Musadik Malik, announced on Wednesday.
Under the new deal, Islamabad will buy crude oil at a discount, with supplies expected to reach 100,000 barrels per day if the first transaction goes through smoothly, the official told Reuters.
Pakistan will be importing two types of oil – Russia's flagship Ural blend and Sokol. Refined products were not included in the contract, but Russian industry experts will reportedly assist in refining the crude in Pakistan. The first oil cargo will arrive at Karachi Port in mid-May, according to Malik.
"Our orders are in, we have placed that already," he said, confirming the arrangement.
He added that Pakistan's Refinery Limited (PRL) will initially process the Russian crude, with other refineries to be included later after a trial run.
Pakistan, the world's fifth most populous country, has been struggling with an acute energy shortage, and the surge in global oil and gas prices has exacerbated the situation. Imports of the fuel have become five to ten times more expensive due to increased demand in the EU.
Last year, Islamabad imported 154,000 barrels per day mostly from Saudi Arabia and the United Arab Emirates. Now, as the country is looking to source up to 33% of its crude imports from Russia, Middle Eastern supplies are expected to drop.
With discounted Russian oil, cash-strapped Pakistan will see relief in the face of a balance of payments crisis and critically low foreign exchange reserves. According to statistics, energy imports make up the bulk of the country's external payments.
Transactions for Russian energy supplies will reportedly be settled in currencies other than US dollars. However, Malik declined to say whether Moscow and Islamabad would use Chinese yuan or UAE dirham, explaining that he would not disclose the commercial side of the deal.
For more stories on economy & finance visit RT's business section
You can share this story on social media: