Western countries dodging Russian oil ban – report
EU and G7 nations have found a loophole to bypass their own restrictions, research has claimed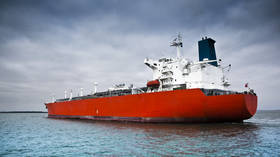 Western states that have banned direct purchases of Russian oil are now buying it indirectly from third countries, a report from the Centre for Research on Energy and Clean Air (CREA) claimed on Wednesday.
In December, the EU, G7, and allied countries imposed an embargo and a $60-per-barrel price cap on Russian oil. Similar restrictions were introduced in February for exports of Russian petroleum products.
While the so-called 'price cap coalition' cracked down on crude imports, it has increased purchases of refined products from "oil-laundering" countries, CREA claims.
The EU, Australia, and most of the G7 countries imported a combined $45.9 billion worth of oil products from countries that have become the largest buyers of Russian crude in the 12 months since the beginning of the conflict in Ukraine, the report stated.
According to CREA, "among the price cap coalition, the largest importer of oil products from the laundromat countries was the EU," with imports reaching $19.4 billion since last February. Australia reportedly purchased $8.8 billion worth of refined crude in the 12-month period, followed by the US with $7.2 billion, the UK with $5.5 billion, and Japan with $5.2 billion. The highest proportions of imported oil products into price cap coalition countries were for diesel (29%), jet fuel (23%), and gasoil (13%).
China's monthly exports of oil products to the EU and Australia spiked far above historical levels in late 2022, the Finland-based research center revealed.
According to the report, which is based on ship-tracking data, the price cap coalition countries ramped up imports of refined oil products from China by 94%, Turkey by 43%, the United Arab Emirates by 23%, Singapore by 33%, and India by 2%.
"The price cap coalition countries are responsible for the vast majority of the increase in laundromat countries' exports of oil products," CREA said. It claimed that 56% of Russian oil shipped to new destinations "has been transported by vessels owned and/or insured" by Western nations.
For more stories on economy & finance visit RT's business section
You can share this story on social media: