Sanctions force Asian state to ditch dollar payments to Russia – Nikkei Asia
Bangladesh will repay a loan for the construction of its first nuclear power plant in Chinese yuan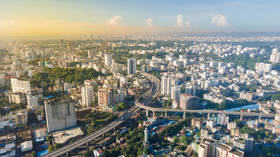 Bangladesh is set to make loan repayments in Chinese yuan for a nuclear power plant being built by Russia, as a way to sidestep Western sanctions, Nikkei Asia reported on Monday.
According to the news outlet, the decision follows last week's high-level talks between the sides, where it was agreed that the bills could be paid in yuan. Bangladesh owes Russia the equivalent of $110 million for the facility, which is still under construction.
"Because of the sanctions against Russian banks… we couldn't process payments in US dollars," Uttam Kumar Karmaker, additional secretary of the Bangladeshi Ministry of Finance's Economic Relations Division, told Nikkei. "Russia asked us to settle the payments in their currency, rubles, but that was not feasible. So, we both opted for yuan," he explained.
The Rooppur Nuclear Power Plant (RNPP) is Bangladesh's largest infrastructure project and is part of the country's plans to move away from coal and other fossil fuels. It is located about 140 kilometers west of the capital, Dhaka. Once operational, the facility will be capable of generating 2,400 megawatts of power. Russia's state-owned company Rosatom is building the $12.65 billion project, with Moscow providing 90% of the funds for the construction.
Under the agreement, Bangladesh will settle payments with Russia via a Chinese bank, Nikkei wrote. Russian beneficiaries will reportedly receive the funds through China's Cross-Border Interbank Payment System (CIPS), since many Russian banks have been cut off from the SWIFT system.
"Given the significance of this power plant project, it is natural that Bangladesh will try to keep it going at any cost," Shafquat Rabbee, an adjunct instructor at the University of Dallas business department in the United States, noted.
The RNPP is expected to start supplying power in mid-2024 and produce electricity for a minimum of 60 years. It will add Bangladesh to the list of more than 30 nations that have operating nuclear power reactors.
For more stories on economy & finance visit RT's business section
You can share this story on social media: