Russian nuclear power exports booming
Western countries are reluctant to sanction the industry as it would be economically painful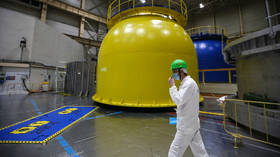 Russian nuclear fuel and technology sales soared last year as imports by EU countries climbed to the highest in three years, Bloomberg reported on Tuesday, citing data compiled by the UK's Royal United Services Institute (RUSI).
Figures sourced from Russia's customs records show that in 2022 exports of nuclear fuel and technology in the country's strategic industry surged by over 20%, as the US and its allies shied away from imposing penalties on the nuclear sector.
The Russian nuclear industry, which has so far gone unsanctioned despite Kiev's pleas, is essential for the operation of many power plants in Europe. Russia's state nuclear firm Rosatom provides about one-fifth of the enriched uranium needed for the 92 reactors in the US. In Europe, utilities that generate power for 100 million people rely on the company.
According to the World Nuclear Industry Status Report, of the 53 reactors under construction globally as of mid-2022, 20 were being built by Rosatom, 17 of which are outside Russia.
The figures show NATO members including Bulgaria, the Czech Republic, Hungary and Slovakia continued to buy nuclear fuel from the sanctioned country last year. These nations are heavily reliant on nuclear know-how from Russia to run the power plants that produce up to half of the electricity they need.
"Nuclear energy projects have very long timelines, so it is difficult to draw any definitive conclusions," a Research Analyst with RUSI's Proliferation and Nuclear Policy program, Darya Dolzikova, said. "But the data does point to a prioritization of markets that may be reticent to sanction Russian nuclear energy exports or entities," she added.
Hungary, which is among the EU countries opposed to including nuclear fuel in the bloc's sanctions, has four Russian-built nuclear reactors and is providing aid for another two, to be built by Rosatom. By the time construction is completed, the project will be one of Eastern Europe's biggest foreign investments.
Earlier this month, the head of Rosatom Alexey Likhachev announced that the company is in talks with about 10 countries on new projects with three or four close to signing deals.
Russia currently supplies nuclear fuel to India, and is building two reactors there scheduled to open in 2025. Rosatom provided more than $375 million worth of fuel for a reactor in China last year, according to data. The country has also invested some 90% of the $13 billion project to build the first nuclear-power plant in Bangladesh.
For more stories on economy & finance visit RT's business section
You can share this story on social media: