Worst financial crash in history coming this summer – economist
Harry Dent predicts the biggest economic meltdown "in our lifetime"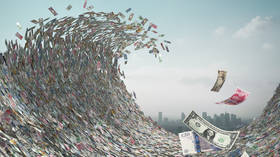 A major financial crash will likely hit by mid-June, Harry Dent, economist and author of several best-selling books, told the David Lin report, last week. Dent, who has a history of making controversial predictions, believes that the current market bubble will burst and result in a financial meltdown.

The bubble is a result of the US Federal Reserve's loose monetary policy, which has artificially inflated the stock market, according to Dent. He expects the S&P 500 to collapse by 86% "in this crash" and the Nasdaq to plummet by 92%.

The crypto market will go into a tailspin alongside stocks, the economist warned, predicting that Bitcoin will tumble 95-96% from its November 2021 high.

"Bitcoin will fall from $69,000 to about three to four thousand," he said, adding that "It's exactly what Amazon and the dot-coms did."

Dent points to what he sees as overlapping crises as the reason for his pessimism. The pandemic shattered the global economy in many ways, leading to job losses and reducing consumer spending. Additionally, unprecedented inflation in most wealthy countries and supply-chain disruptions have sparked serious concerns among investors and economists, forcing them to realize that "this is not a big correction — it is a major crash, one that you have not seen … in your lifetime, and the one that even the millennials will not see a bigger crash than this," Dent added.
According to the economist, despite efforts by central banks and their "declared war on recession" "we keep falling back into the recession" because the economy underneath is "really weak and really needs to get rid of a lot of really bad debt and zombie companies and the central banks won't let the economy do its thing."

Dent cautioned about a third wave of the crisis coming, emphasizing that in his view "it's going to creep up" on the Federal Reserve "before they can reverse the tightening."

"We have not cleaned up the massive debts and overvaluations of the biggest financial assets bubble in everything. We have never had a financial asset bubble in everything like this. This bubble has not been allowed to burst and clear out its excesses which we need to do. And I think we are into that process now," Dent concluded.

The economist expects "a crash more like 1929 to 1932" referring to the Great Depression, stressing that this is his "best forecast at this time."
For more stories on economy & finance visit RT's business section
You can share this story on social media: