Forbes details crypto billionaires' huge losses
Combined losses of wealthy promoters of digital currencies has reportedly totaled $110 billion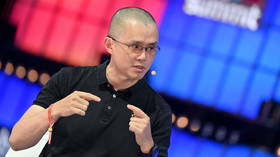 Crypto billionaires have lost a combined $110 billion in the past twelve months, registering an enormous year-on-year decline of 75%, according to estimates by Forbes published earlier this week.
In 2022 the magazine reported that the combined wealth of the world's richest crypto holders totalled around $140 billion, but a year of fraud allegations, government lawsuits and probes, along with dropping asset valuations, sent their collective worth plummeting to less than $30 billion as of March 10, 2023.
The steep decline in fortunes also sent the number of crypto billionaires dropping from an all-time high of 19 recorded last year to only nine last month.
Changpeng Zhao, co-founder and chief executive of the world's largest cryptocurrency trading platform Binance, retained the title of the world's number one crypto billionaire. His fortune reportedly amounted to $10.5 billion, down from $65 billion in 2022.
He was followed by Jed McCaleb, co-founder of blockchain projects Stellar and Ripple and creator of infamous bitcoin exchange MtGox, with a net worth of $2.4 billion compared to $2.5 billion recorded last year.
The third spot in the ranking was shared by Brian Armstrong, СЕО of cryptocurrency exchange platform Coinbase, and Chris Larsen, co-founder of fintech giant Ripple. Their respective fortunes totalled $2.2 billion, down from $6.6 billion, and $2.2 billion, down from $4.3 billion.
Alchemy cofounders Nikil Viswanathan and Joseph Lau were ranked fifth and sixth. Their net worth amounted to $1.8 billion each, having dropped from $2.4 billion each in 2022.
The fortunes of Cameron and Tyler Winklevoss, founders of the cryptocurrency exchange Gemini, weighed in at seventh and eighth in the ranking, totalling $1.2 billion each, down from $4 billion each.
Matthew Roszak, a long-standing advocate of cryptocurrencies, who co-founded Chicago blockchain technology startup Bloq, was ranked ninth wealthiest, as his net worth dropped from $1.4 billion in 2022 to $1.1 billion this year.
For more stories on economy & finance visit RT's business section
You can share this story on social media: