'Most wanted' crypto fugitive arrested – minister
Do Kwon, the co-founder of failed companies TerraUSD and Luna, is accused of defrauding investors of $40 billion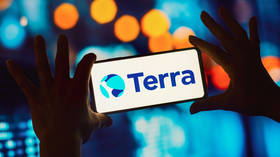 Wanted South Korean cryptocurrency developer Do Kwon has been arrested in Montenegro, according to a government official in the Balkan country. Kwon is facing Security and Exchange Commission (SEC) charges in the US over allegations he misled investors.
"Montenegrin police have detained a person suspected of being one of the most wanted fugitives, South Korean citizen Do Kwon, co-founder and CEO of Singapore-based Terraform Labs," read a tweet from the country's interior minister, Filip Adzic, on Thursday.
Adzic added in a subsequent tweet that the person believed to be Kwon had been detained at Podgorica airport and that he had been attempting to travel with forged documents.
The SEC filed a civil fraud lawsuit against Kwon and Terraform Labs PTE Ltd in a Manhattan federal court last month, amid allegations that he had withheld risks associated with the TerraUSD cryptocurrency. Kwon was also alleged to have misled investors about how another cryptocurrency, Luna, was used in South Korea.
The filing accused Kwon of "orchestrating a multi-billion dollar crypto asset securities fraud."
Both currencies collapsed last year, erasing around $40 billion in value in just a matter of days and wiping out the savings of thousands of investors.
South Korean prosecutors obtained an arrest warrant for Kwon in September 2022. They were also granted a so-called 'red notice' from global law enforcement agency Interpol, which expanded the search for him.
It was reported by the Yonhap news agency in December that Kwon was in hiding in Serbia, although several months previously he had denied claims that he was "on the run or anything similar." "For any government agency that has shown an interest to communicate, we are in full cooperation and we don't have anything to hide," Kwon wrote on Twitter in September, without revealing his location.
In an interview with the Wall Street Journal last June, Kwon denied any allegations of wrongdoing, saying: "There is a difference between failing and running a fraud."
You can share this story on social media: