France hit by gasoline shortages – Le Figaro
Nationwide strikes have disrupted fuel supplies to petrol stations, the outlet reports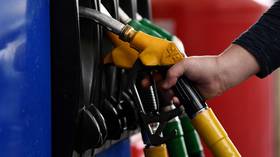 Strikes at French oil refineries have triggered fuel shortages at petrol stations across the country amid continued protests against the government's plan to raise the retirement age, Le Figaro reported on Friday.
In recent days, industrial action by refinery workers has intensified, leading to supply disruptions as members of French unions stopped refineries and depots from delivering fuel, the outlet said.
According to the latest data compiled by the news outlet, the Val-de-Marne department in Ile-de-France is the worst affected with nearly half (49.4%) of local petrol stations facing partial or complete fuel supply disruption.
In the Paris region 38% of petrol stations were experiencing shortages of at least one type of fuel as of April 6. Drivers reported problems at 39% of pumps in Hauts-de-Seine, while 24% of pumps in Indre-et-Loire were also affected, reporting little or no supply.
According to Le Figaro's calculations, a total of 6.3% of filling stations across the country are now facing fuel shortages.
Protests erupted across France in late March, with over a million people taking part in a nationwide demonstration against unpopular pension reforms proposed by President Emmanuel Macron.
As strikes at the country's oil refineries and depots continue, concerns over a large-scale fuel shortage during the upcoming Easter holidays are mounting. In order to avoid a fuel collapse, French authorities have requisitioned staff at the country's largest refinery, Gonfreville, which supplies the whole Ile-de-France region and provides fuel to the capital's main airports.
For more stories on economy & finance visit RT's business section
You can share this story on social media: