EU nation renews effort to ban Russian nuclear energy – Reuters
Lithuania is offering exemptions for some member states to push sanctions through, the news agency has claimed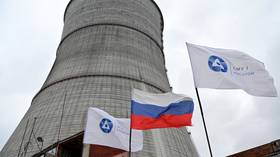 Lithuania has proposed that the EU impose sanctions on Russia's nuclear industry while temporarily granting an exemption to Hungary, which has opposed any restrictions, Reuters reported on Tuesday citing an internal document.
The EU has not sanctioned state-owned Russian nuclear energy giant Rosatom despite repeated requests from Ukraine and bloc members Lithuania and Poland, which are among Moscow's most vocal critics. The move has been blocked by some EU states that rely on Russian nuclear fuel and technology.
In an effort to appease opponents of the proposal, Lithuania has suggested exemptions for Hungary, which operates four Russian-built nuclear reactors and plans to expand that by two more. The new offer would allow Budapest to maintain its current contracts with Rosatom.
Hungary has repeatedly criticized the EU over its sanctions policy against Russia, and has vowed to oppose any curbs on the country's nuclear energy industry.
Lithuania has also proposed a two-year period to phase out existing contracts with Rosatom for EU members. "In addition, it is appropriate to introduce a derogation on the basis of which operations, contracts or other agreements concluded with Rosatom could be still executed for a fixed period of time allowing European Union member states to complete the execution of these contracts or other agreements," the proposal states.
According to Reuters, the document is dated March 17 and has not been released publicly. It also reportedly requires "individual restrictive measures for Rosatom," a ban on investment in Russia's nuclear energy industry, and a cut of enriched uranium imports for members of the bloc – excluding nations which have valid contracts.
Lithuanian Foreign Minister Gabrielius Landsbergis described the plan as "an onion approach," arguing that "it has a lot of layers to choose from. We can peel all those that we cannot... agree upon."
Meanwhile, Russian nuclear fuel and technology sales soared last year as imports by EU countries climbed to the highest level in three years. NATO members including Bulgaria, the Czech Republic, Hungary and Slovakia all continued to buy reactor fuel from the sanctioned country.
For more stories on economy & finance visit RT's business section
You can share this story on social media: