Raiffeisen Bank eyes exit from Russia amid Western pressure
The lender has warned that its likely departure will cause a decline in profit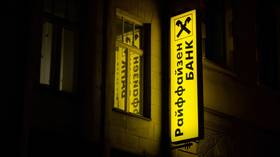 Austrian banking group Raiffeisen, one of the last major Western lenders in Russia, announced on Thursday it was considering selling its business in the sanctioned country amid mounting pressure from the US and EU.
Raiffeisen plays a crucial role in the Russian economy, providing a lifeline for euro payments to and from the country. It's one of only two foreign banks on the Russian Central Bank's list of 13 systemically important credit institutions, the other being Italy's UniCredit.
Speaking at the bank's annual general meeting, CEO Johann Strobl announced that Raiffeisen Bank International (RBI) "will pursue possible transactions that can lead to a sale or a spin-off of Raiffeisenbank Russia and its deconsolidation from the RBI group."
In recent months, Austria's second-biggest credit institution has been under growing pressure from Western officials and investors. The European Central Bank (ECB) reportedly urged the lender to quit the Russian market after a top US official visited Vienna last month, and voiced concerns about the lender's operations in Russia. The RBI Group, which owns the bank, has been under scrutiny from the US and the EU over potential breaches of Western sanctions.
Meanwhile Raiffeisen's Supervisory Board Chairman, Erwin Hameseder, has taken aim at "morally arrogant" critics of the bank's operations in Russia, accusing them of "black and white moral thinking" from a "risk-free zone of comfort."
He noted that most Western businesses have not left Russia, adding: "that is reality."
Raiffeisen warned that the decision to exit its highly profitable business in Russia would lead to "a decline in income generated by Raiffeisen Bank Russia" and impact RBI's customers.
A senior Raiffeisen executive told Reuters that the bank was in talks with two potential buyers, including one from Russia, stressing that any spin-off would take four to seven months.
The lender said it will keep some business in Russia, where it employs more than 9,000 people, "to meet the conditions of its banking license and support customers."
For more stories on economy & finance visit RT's business section
You can share this story on social media: