EU countries seek protection from Ukrainian grain
Poland and Romania want local farmers to be safeguarded against a flood of cheap imports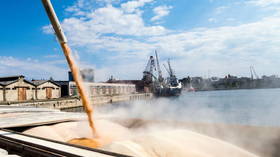 Poland and Romania have appealed to the European Commission to set an export tracing mechanism for Ukrainian grain, the countries' respective prime ministers, Mateusz Morawiecki and Nicolae Ciuca, revealed at a business conference in Bucharest on Tuesday.
According to the senior officials, Ukraine has been shipping much of its grain through neighboring Eastern European countries after its Black Sea ports were blocked amid Russia's military operation. Many of these shipments are much cheaper than local produce, and due to various factors they have ended up never leaving Poland or Romania, sparking complaints among local farmers that Ukrainian imports undercut local crops.
"Together we are engaged in a process to discuss with the European Commission what the mechanisms should be to enforce the traceability of Ukrainian exports and final destinations," Ciuca said. Morawiecki added that both nations "are fighting together for this grain to leave our countries" and need Brussels' help with their cause.

"This grain, as promised by the European Commission, was supposed to go to Africa and the Middle East. Meanwhile, procedural imperfections and tardiness in certain areas led to the fact that some of this grain and other agricultural produce has remained, thereby driving down prices for farmers," the Polish PM was quoted as saying.
According to European Commission estimates, farmers from Poland, Romania, Hungary, Bulgaria, and Slovakia have lost some €417 million ($451 million) over the past year due to the oversupply of grain caused by Ukrainian exports.
It is not the first time that EU members have drawn attention to the problems that Ukrainian grain transit causes for Eastern European countries. Led by Poland, six nations asked Brussels for compensation for farmers and a halt to Ukrainian transit through their territories back in January. Romanian Agriculture Minister Petre Daea said earlier this month that the European Commission planned to allocate €56.3 million to compensate farmers, but described that amount as insufficient and urged Brussels to assign more from the European Commission's reserve fund. The commission is expected to make a final decision later this week.
For more stories on economy & finance visit RT's business section
You can share this story on social media: