US warns Russia and China over dollar alternative
The greenback will remain the world's reserve currency, Treasury Secretary Janet Yellen has predicted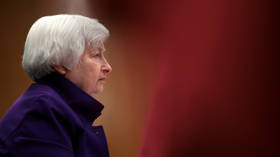 Russia and China will face substantial difficulty in their efforts to create an alternative to the US dollar in international trade, American Treasury Secretary Janet Yellen claimed on Thursday.
Russia is conducting a rapid withdrawal from transactions in "unfriendly" currencies, against the backdrop of expanding EU and US sanctions. As part of the move, Moscow has shifted away from the dollar towards the ruble and local currencies in settlements with major trade partners such as China and India.
"I certainly want to see the dollar remain as the world's reserve currency, and there is a motivation that Russia and China have to try to develop another system that avoids the use of the dollar," Yellen said at a hearing of the US House of Representatives Appropriations Subcommittee. The Treasury official claimed it would be "tremendously difficult" for Moscow and Beijing to achieve their aims.
Russia began de-dollarizing its economy in 2014, when Western countries introduced sanctions after Crimea voted to secede from Ukraine and reunify with Russia. The process has accelerated after more than $300 billion in Russian foreign exchange reserves and other assets were frozen by the West last year.
The latest data from the Bank of Russia shows that the Chinese yuan has become a major player in Russia's foreign trade. Its share in Russian import settlements had jumped to 23% by the end of last year, from only 4% in January 2022. The yuan's share in export settlements also surged, from 0.5% to 16%.
In contrast, the share of the US dollar and euro in Russia's export settlements dropped substantially last year, from 65% in January 2022 to 46% in December.
In February, the yuan overtook the dollar as the most traded currency on the Russian stock market for the first time ever, according to data from the Moscow Exchange.
For more stories on economy & finance visit RT's business section
You can share this story on social media: