US dollar to lose global dominance – Putin
The Russian president says Moscow will cooperate with its partners to develop a safe system for international settlements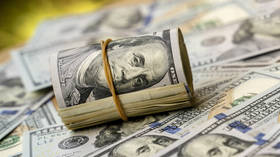 The US and other Western currencies will inevitably lose their leading position in global cross-border transactions, Russian President Vladimir Putin said on Tuesday.
Delivering his annual address to the Federal Assembly, the head of state said that Moscow would cooperate with its allies to build a secure system of international settlements that are not dependent on the dollar or the euro.
According to Putin, the current policies of Western states are causing the US dollar and the euro to lose their universality in international payments.
He explained that Russia's former Western partners are forcing Moscow to cut settlements in dollars and other Western currencies.
In December, Putin stated that the share of ruble transactions in Russia's foreign trade had doubled since the beginning of 2022, and now accounted for one third of the country's settlements. He projected that the use of national currencies in place of the US dollar and euro in trade with Russia's international partners would continue to grow.
The process of de-dollarizing the Russian economy started back in 2014, when Western nations introduced the initial sanctions against Moscow over Crimea's reunification with Russia, which was formerly part of Ukraine. Sanctions imposed since the start of the military operation in Ukraine have sped up the process, particularly after over $300 billion in Russian foreign exchange reserves and other assets were frozen by the US and its allies.
For more stories on economy & finance visit RT's business section
You can share this story on social media: