Polish retail sales drop
Skyrocketing inflation has dampened household consumption, an official report says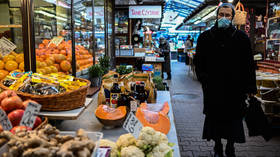 Retail sales in Poland slumped for a second straight month in February, at the fastest pace since 2020 as inflation continued to squeeze spending power, Statistics Poland reported on Tuesday.
Last month, sales in the sector dropped by 5% year-on-year, far more than an expected 1.4% decline, the figures showed. On a monthly basis, retail saw a 3.6% decline from January.
"Retail sales of goods, with calculations based on data from stores with at least 10 employees, decreased by 5% in February. At the same time, in January this fall was 0.3%," the report said.
Economists attribute the weak turnover to persisting pressure on households' real disposable incomes and purchasing power, caused by spiraling inflation.
Sales of furniture and household appliances slid 10.3% in February, while retail sales of other durable goods contracted by 12.3%.
Purchases of food in Poland fell for a second month in a row, losing 4.6% in February compared to the same period last year. The data also showed a 26.2% annual decline in fuel sales.
Poland's inflation is at its highest since 1996. Consumer prices rose 18.4% year-on-year in February, up from the 16.6% the previous month, according to the latest data from Statistics Poland.
For more stories on economy & finance visit RT's business section
You can share this story on social media: