Moody's cuts outlook on US banking system to negative
Six lenders, including First Republic Bank, could be on the way for a potential downgrade by the ratings agency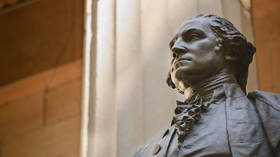 Moody's Investors Service announced on Tuesday it has cut its outlook on the entire US banking system from stable to negative, citing a "rapidly deteriorating operating environment" despite the regulators' efforts to shore up the industry.
The rating agency added it is placing the First Republic Bank and five other American lenders on review for a downgrade. The move comes as concerns grow over the health of the US financial system following the collapse of Silicon Valley Bank (SVB) and two other lenders.
"We have changed to negative from stable our outlook on the US banking system to reflect the rapid deterioration in the operating environment following deposit runs at Silicon Valley Bank (SVB), Silvergate Bank, and Signature Bank (SNY) and the failures of SVB and SNY," Moody's wrote, adding that it was expecting the Federal Reserve to continue tightening monetary policy.
Zions Bancorporation, Western Alliance Bancorporation, Comerica, UMB Financial Corporation and Intrust Financial Corporation were all on the list, Moody's revealed. The agency cited concerns over the lenders' reliance on uninsured deposit funding and unrealized losses in their asset portfolios.
"The review for downgrade reflects the extremely volatile funding conditions for some US banks exposed to the risk of uninsured deposit outflows," it stated.
Moody's also slashed the debt ratings of collapsed New York-based Signature Bank deep into junk territory, withdrawing future ratings for the insolvent lender.
The downgrades come while US bank stocks have continued to plummet despite the government's measures to support lenders and prevent more bank runs. First Republic Bank has led the sell-off, with its share price nosediving more than 60% on Monday, forcing a brief halt in trading due to volatility. Western Alliance Bancorp lost over 47% while Zions Bancorp declined by about 26%. Dallas-based Comerica dropped 28% and UMB lost more than 15%.
The turmoil was triggered by the collapse of major US tech lender SVB on Friday, after customers rushed to withdraw their deposits, which led to its shares crashing and forced the Federal Deposit Insurance Corporation to shut the bank down. SVB became the largest US financial institution to collapse since the 2008 financial crisis.
For more stories on economy & finance visit RT's business section
You can share this story on social media: