US bank stocks continue to plummet
First Republic Bank has led the sell-off, with its share price nosediving more than 60%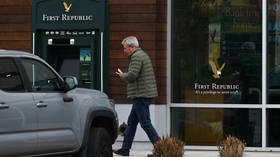 Stocks of US regional lenders continued to slide on Monday, as First Republic Bank recorded a massive drop of 61.8%, forcing a brief halt in trading due to volatility. The San Francisco-based lender extended last week's loss of 33%.
The country's banking sector has been buffeted by a series of collapses that began last week. PacWest Bancorp slid 45%, while Western Alliance Bancorp lost more than 47%. Zions Bancorporation declined by about 26%, while KeyCorp shed some 27%.
Major financial institutions were also under pressure, with trading halted repeatedly due to volatility throughout the day. Charles Schwab, which had already lost 20%, tumbled more than 11% on Monday, Bank of America finished 5.8% lower, and the SPDR S&P Regional Banking exchange-traded fund fell 12%.
The turmoil among US bank stocks stems from the collapse of Silicon Valley Bank on Friday, after customers demanded their deposits and the company's stock plummeted amid worries over the bank's financial health.
The tech and start-up focused bank was shut down by regulators shortly after California-based, crypto-focused Silvergate bank announced its liquidation earlier last week. New York-based Signature Bank was shut down over the weekend due to concerns for the lender's liquidity.
On Sunday, First Republic said it had received additional liquidity from the Federal Reserve and JPMorgan Chase. The lender added that the injection raised its unused liquidity to $70 billion, before any funding it could get from the Fed.
"First Republic's capital and liquidity positions are very strong, and its capital remains well above the regulatory threshold for well-capitalized banks," founder Jim Herbert and CEO Mike Roffler said in a statement seen by CNBC.
On Sunday, the US Federal Reserve announced a new Bank Term Funding Program that will offer loans for up to a year to shore up confidence in the banking system and protect depositors of failing banks. Under the new scheme, both insured and uninsured depositors of the collapsed banks will get full access to their money through a special fund of the Federal Deposit Insurance Corporation (FDIC). The regulator also eased the terms of banks' access to its discount window.
For more stories on economy & finance visit RT's business section
You can share this story on social media: