Robert Kiyosaki predicts next big bank to fold
Credit Suisse is facing the same fate as the once-mighty Lehman Brothers, the renowned economist warns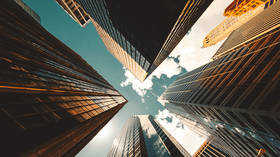 Swiss banking giant Credit Suisse will be the next to go bust following the failure of a number of US banks amid the unfolding financial crisis, according to economist Robert Kiyosaki, who predicted the collapse of Lehman Brothers in 2008.
"The problem is the bond market, and my prediction, I called Lehman Brothers years ago, and I think the next bank to go is Credit Suisse," said the co-author of the best-selling book 'Rich Dad Poor Dad', "because the bond market is crashing."
Kiyosaki explained on Monday that the bond market, which is bigger than the stock market, is the economy's "biggest problem" and will put the US in "serious trouble."
"The US dollar is losing its hegemony in the world right now. So, they're going to print more and more and more of this… trying to keep this thing from sinking," he explained.
Kiyosaki's warning came just hours before Credit Suisse itself identified "material weaknesses" as the cost of insuring its bonds from defaulting reached the highest level. The investment bank admitted in its delayed annual report on Tuesday that it had not yet stemmed customer outflows.
According to Credit Suisse, which has been hit by a series of scandals lately, its customer outflows in the fourth quarter jumped to over 110 billion Swiss francs ($120 billion), putting it in breach of some liquidity buffers.
On Monday, the bank's share price nosedived more than 14% to a record low amid market turmoil triggered by the collapse of US tech lenders.
For more stories on economy & finance visit RT's business section
You can share this story on social media: