Dollar crash coming – Robert Kiyosaki
By 2025, faith in the greenback will be destroyed, the author claims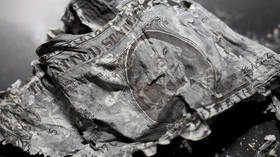 Famed writer and economist Robert Kiyosaki has warned investors that the stock markets are about to crash and the US economy is heading into a "depression."
According to the 'Rich Dad Poor Dad' co-author, this will be fueled by the fact that the US Federal Reserve will print billions in "fake money."
"Giant crash is coming. Depression possible," Kiyosaki tweeted late Sunday.
He also wrote that by 2025, Bitcoin will hit $500,000, followed by $5,000 and $500 price marks for gold and silver respectively. He explained that this will be "because faith in the US dollar, fake money, will be destroyed," adding that Bitcoin is the people's money, and gold and silver are "God's money."
Giant crash coming. Depression possible. Fed forced to print billions in fake money. By 2025 gold at $5,000 silver at $500 and Bitcoin at $500,000. Why? Because faith in US dollar, fake money, will be destroyed. Gold & Silver Gods money. Bitcoin people's $. Take care.

— Robert Kiyosaki (@theRealKiyosaki) February 13, 2023
The spot price for gold is currently at $1,856.58 per ounce, with spot silver at $21.99 per ounce and Bitcoin at $21,864.
This is not the first time Kiyosaki has tweeted about an approaching market crash. He has made several similar warnings, tweeting that everything will crash, including the prices of gold, silver, and Bitcoin. This has caused some skepticism regarding his predictions.
Recently, Kiyosaki predicted an impending collapse of the financial markets, which could happen, he said, as early as this week. Analysts noted that he probably attributed the worsening of market conditions to US inflation data, which is due on February 14. Kiyosaki urged people not to panic and to increase their exposure to strong assets.
For more stories on economy & finance visit RT's business section
You can share this story on social media: