US to tighten microchip export curbs against China – Bloomberg
The measures will reportedly target semiconductor-making equipment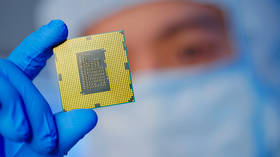 Washington plans to introduce new export restrictions to further curb China's access to advanced American chip technology, Bloomberg reported on Saturday, citing sources.
The measures, which focus on chip manufacturing capabilities, will double the number of equipment types that require special export licenses, according to the report.
Sources also claimed that the US plans to coordinate the new measures with the governments of Japan and the Netherlands. Because the three countries dominate the global chip market, many analysts believe that Washington would need the support of the other two for its measures to be effective. The US has reportedly been pressuring the Dutch and Japanese governments for months, although so far neither Tokyo nor Amsterdam has put in place any specific regulations specifically targeting Beijing.
Earlier this week, the Netherlands did pitch plans to expand restrictions on exports of its latest semiconductor technology, but it did not mention China, nor did it give any further details about the proposed regulation.
The US has been seeking to contain China's technological advancement, which it considers a threat to its national security. Last October, Washington introduced sweeping export controls that prevented Chinese firms from buying certain American chip-making tools, which Beijing could allegedly use for military purposes.
China has repeatedly criticized US policies regarding semiconductors and even filed a formal complaint with the World Trade Organization over the export controls, arguing that they threatened the interests of Chinese companies and disrupted global supply chains.
For more stories on economy & finance visit RT's business section
You can share this story on social media: