Poland sees rise in food theft
High prices are behind increased shoplifting in grocery stores, newspaper Rzeczpospolita reports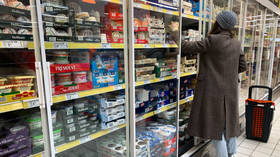 The number of shoplifting crimes in Poland increased by almost a third in 2022, newspaper Rzeczpospolita reported on Thursday, citing police data.
Statistics showed that the number of thefts increased by as much as 31.1% on an annual basis, to over 32,000 cases. Out of 16 Polish regions, only Lublin reportedly did not record an increase in such crimes.
The rise in theft is "a clear signal of trouble on the market," the president of the Polish Trade and Distribution Organization Renata Juszkiewicz was quoted as saying. Soaring prices have been pushing people to commit such crimes, she suggested, adding that it is "a huge challenge" for stores while prompting further increases in operating costs.
The report indicated that food was stolen most of all, followed by luxury items such as expensive perfumes and spirits, as well as small electronics.
The Polish economy slowed in 2022 amid soaring inflation and a plunge in consumer spending brought on by the conflict in neighboring Ukraine and the impact of sanctions on Russia. Official statistics show that inflation accelerated in the beginning of 2023, with consumer prices jumping 17.2% in January from a year ago. Economists are forecasting that inflation will continue to rise, with Poland projected to have one of the EU's highest rates this year.
The governor of Poland's central bank, Adam Glapinski, said he expects the country to avoid a recession, although there may be temporary fluctuations in the first quarter of the year.
For more stories on economy & finance visit RT's business section
You can share this story on social media: