Polish economy slows as Ukraine conflict drags on
The country's GDP growth decelerated to 4.9% in 2022, official statistics show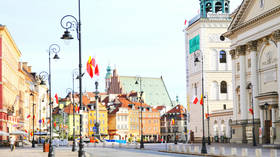 Poland's GDP growth in 2022 slipped from the previous year amid soaring inflation and a plunge in consumer spending brought about by the conflict in neighboring Ukraine and the impact of anti-Russia sanctions, according to data from the country's statistics agency.
A flash estimate released on Monday shows the country's GDP having grown by 4.9% in 2022, down from the 6.8% recorded in 2021. The growth was driven largely by industrial production, the rebuilding of inventories, exports, and investment. Consumption, however, registered a strong slowdown going into the end of the year, as inflation weighed on real disposable income and spending.
"This very good result is to a large extent the effect of a very good first half of the year. The second half of the year brought a clear slowdown in economic activity, because the effects of higher inflation and higher interest rates became apparent," Grzegorz Maliszewski, chief economist at Bank Millennium, told Reuters.
December saw headline inflation slow to 16.6% year-on-year thanks to energy prices coming down from the nearly 25-year highs they reached earlier in the year. However, analysts warn that consumer prices may surge again in February 2023, as core inflation continued to rise in December, to 11.6% from 11.4% in November.
Analysts expect the beginning of 2023 to be difficult for the Polish economy, but predict that the second half of the year may bring an upturn.
"Unless Europe encounters problems securing energy sources for next winter season (2023/24), we expect economic growth of about 1% this year. This should be accompanied by… persistently high core inflation, which will not allow interest rate cuts before the end of this year," analysts from ING said in a report.
The governor of Poland's central bank, Adam Glapinski, said earlier this month that he expects the country to avoid a recession, although there may be temporary fluctuations in the first quarter of the year. He forecast GDP growth to come in at around 0.7% in 2023, "but still positive."
For more stories on economy & finance visit RT's business section
You can share this story on social media: