EU country to restrict semiconductor exports to China – media
The Netherlands is joining the US supply ban on the most advanced chip technology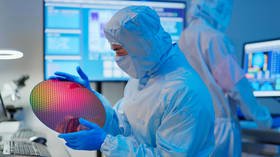 The Netherlands plans to restrict exports of semiconductors to China following pressure from the US to join its policy of curbing Beijing's access to advanced technology, Reuters reported on Thursday, citing the Dutch government.
In a move that is reportedly aimed at defending national security interests, the Dutch authorities are set to take the first step towards adopting the new export controls initiated by Washington last year.
In October, the White House imposed sweeping export restrictions targeting China's semiconductor industry. The package included a ban on shipping to China without an export license chips made with US technology and intended for use in artificial intelligence and supercomputers. Washington also restricted the sale of chip manufacturing equipment and technology to Chinese companies and curbed the ability of US firms to work with Chinese chip producers unless granted special permission.
However, the restrictions would only work if approved by key chip makers in the Netherlands and Japan.
After months of pressure from Washington, Dutch Trade Minister Liesje Schreinemacher announced the decision in a letter to parliament, saying the restrictions would be introduced before the summer.
"Given the technological developments and the geopolitical context, the government has come to the conclusion that the existing export control framework for specific equipment used for the manufacture of semiconductors needs to be expanded, in the interests of national and international security," the letter said.
The document doesn't mention China or specific companies. However, it refers to the deep ultra violet (DUV) lithography systems technology as subject to the new controls. DUV machines are produced by the Dutch-based company ASML, Europe's largest tech company and a major global semiconductor producer.
ASML dominates the market for lithography machines, which are used to manufacture memory chips for a range of devices, from smartphones to laptops and servers, and could eventually be used for artificial intelligence applications.
Since 2014, ASML has sold more than $8.4 billion worth of DUV machines to China.
Japan, a second key semiconductor supplier, is expected to release its update on export policies this week, sources told Reuters.
"For national security reasons we constantly review export rules, but it doesn't mean we have decided anything at this point," Japan's economy minister, Yasutoshi Nishimura, told parliament when asked about possible restrictions.
China has repeatedly said that by imposing export controls on Beijing the US is infringing on free trade rules.
For more stories on economy & finance visit RT's business section
You can share this story on social media: