G7 to reconsider price cap on Russian oil
A $60-per-barrel price ceiling has been imposed on Russia's seaborne oil exports for three months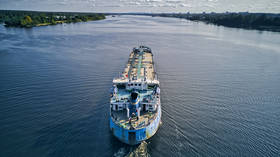 The Group of Seven is planning to reconsider the price ceiling for seaborne exports of Russian crude oil, possibly within the next few weeks, according to Elizabeth Rosenberg, Assistant Secretary for Terrorist Financing and Financial Crimes at the US Department of the Treasury.
The price cap of $60 per barrel that has been applied to shipments of Russian crude came into effect on December 5, and was supported by the EU and Australia.
"All I can say is that the G7 is planning to re-evaluate the ceiling in March," Rosenberg told RIA Novosti on the sidelines of the CERAWeek energy conference in the US oil industry capital, Houston.
The official reportedly evaded the issue of the price ceiling's impact on supply-demand balance at the global crude market. She also declined to comment on the efficiency of the sanctions, or on their capacity to change policies pursued by Moscow.
Meanwhile, US Energy envoy Amos Hochstein said that price caps, imposed by the G7 and allies to force Russia to sell its crude and fuel at a discount, are working well.
The measure bans Western companies from providing insurance and other services to shipments of Russian oil unless the cargo is purchased at or below $60 per barrel.
Similar price ceilings have been applied to Russian refined petroleum products since February 5. The allies agreed to set a price limit of $100 per barrel for diesel, jet fuel, and gasoline from Russia, and a $45-per-barrel cap for other oil products that trade below the crude price, such as fuel oil used in industry.
Earlier this week, Kremlin spokesman Dmitry Peskov said that the G7 nations have set a price cap for Russian oil that does not really exist, based on the level of market prices.
For more stories on economy & finance visit RT's business section
You can share this story on social media: