Sanctions put global energy supplies at risk – Gulf state
The restrictions against Russia will lead to shortages, a Saudi minister warns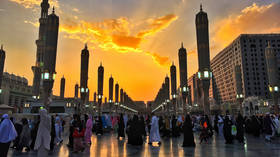 The sanctions policies pursued by the US, EU, and allies against Russia, one of the world's top producers of crude oil, will result in energy shortages in the future, according to Saudi Energy Minister Prince Abdulaziz bin Salman.
EU member states have imposed ten rounds of sanctions on Russia in an effort to reduce the country's revenues from energy exports, in response to the military operation in Ukraine. The latest measures, backed by the Group of Seven and Australia, came into force on February 5.
"All of those so-called sanctions, embargoes, lack of investments, they will convolute into one thing and one thing only, a lack of energy supplies of all kinds when they are most needed," the minister warned on Saturday, responding to a question over how trade measures will affect the energy market.
The latest penalties imposed on Russia, the world's third-biggest oil exporter after the US and Saudi Arabia, include a price cap for refined petroleum products of $100 per barrel of diesel and $45 per barrel of fuel oil. The caps followed similar measures targeting Russia's seaborne oil exports, which came into force on December 5 and ban Western companies from providing services for Russian oil cargoes unless they are purchased at or below $60 per barrel.
Asked what lessons have been learned from the energy market dynamics in 2022, the Saudi prince said the most important thing was for the rest of the world to "trust OPEC+."
"We are a responsible group of countries … we don't engage ourselves in political issues."
In 2022, the alliance, which includes members of the Organization of the Petroleum Exporting Countries (OPEC) and other oil producers, including Russia, agreed to reduce its production target by 2 million barrels per day, or 2% of global demand. The measure came into effect in November and will be valid until the end of 2023 to support the market.
For more stories on economy & finance visit RT's business section
You can share this story on social media: