Inflatable arms maker reports soaring demand
Business was up by more than 30% last year, Inflatech reports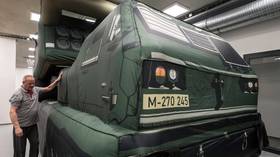 A Czech company that produces inflatable imitation weapons, including fake American HIMARS rocket systems and Abrams tanks reportedly used as decoys in Ukraine, announced on Monday that production orders have dramatically increased.
According to Inflatech, which produces more than 30 types of life-size inflatable military decoys, its business soared by 30% last year.
The company's chief executive Vojtech Fresser told the Associated Press that he expects growth to continue rising by double digits for at least another three to five years.
Fresser refused to comment on whether the company's decoys were being used by Ukrainian forces. However, he said: "I can imagine that if we want to support a partner country which is in trouble, we would send them inflatable decoys. Or it already has them, and if not, it will have them, for sure."
Inflatech uses light materials, such as artificial silk, for the production of its decoys. As a result, a fake tank could weigh up to 100kg. It reportedly takes four people to operate a decoy, with ten minutes needed to unwrap and inflate it.
According to the company, the fake tanks, armored vehicles and jet fighters are used to fool the enemy on the battlefield, so that they target the decoys instead of real weaponry.
"If I force the enemy to destroy a thing of mine by using something which is four times, but in reality it could be 20 times more expensive, then I'm the winner economically," Fresser explained to AP.
Inflatech currently manufactures up to 50 decoys a month. Those are reportedly sold to a number of countries, with any such exports to a NATO state requiring them to be approved by its government.
Earlier this month, the US Department of Defense announced that it would send a new military aid package worth $400 million to Ukraine, including HIMARS rockets and artillery shells. The package is the 33rd tranche of military aid doled out to Ukraine since August 2021.
Since the beginning of Russia's military operation in Ukraine last February, Washington has reportedly provided Kiev more than $32 billion worth of arms. Russia has long condemned the supply of Western arms to Ukraine, arguing that this only prolongs the fighting without changing the outcome.
For more stories on economy & finance visit RT's business section
You can share this story on social media: