Chinese firms filling gaps left by Western brands – Moscow
More than 1,000 companies quit the Russian market in the past year due to Ukraine-related sanctions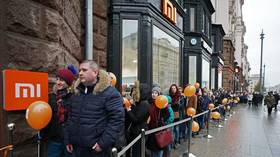 Russo-Chinese economic cooperation has been growing at a rapid pace in recent months and has "good prospects" for further expansion, Igor Morgulov, Russia's ambassador to Beijing, said in an interview on China Central Television on Saturday.
According to the envoy, Chinese companies are actively filling the gaps in the Russian market left after the departure of Western companies, hundreds of which were forced to leave Russia due to Ukraine-related sanctions.
"We welcome the surge in Chinese exports to Russia, primarily of machinery and sophisticated types of goods, with which our Chinese friends are filling the niches vacated by the withdrawal of Western companies from the Russian market.
"These include computers, cell phones, and cars. You can see more and more Chinese cars on our streets... So, I see good prospects for the growth of Chinese exports to Russia," Morgulov stated.
He noted that Russian products are also gaining popularity on the Chinese market.
"After four months of my stay in Beijing, I can say that Russian food products are in great demand among the Chinese. This is truly gratifying," he said. The diplomat also noted that Russia currently accounts for just 2% of China's agricultural commodities imports, which is "obviously not enough."
"I am sure Russia could supply a lot more agricultural products, including oil-bearing plants, grain, meat, fishery products and many others."
He added that there are expectations of further broadening the scope of Russian exports to China in spheres like the pulp and paper industry, chemical industry, fertilizer production and metallurgy.
After the start of Russia's military operation in Ukraine, over 1,000 Western firms quit the Russian market, pressured by sanctions, according to Yale University analysts. As a result, Russia was forced to reorient to non-Western partners, most notably China and India.
Over the past several months, China has been competing with India as Russia's biggest buyer of oil, and has overtaken the EU as the top importer of Russian agricultural products.
Russo-Chinese trade turnover grew by nearly a third in 2022, reaching $185 billion, making Russia the leader among China's 20 largest partners in terms of trade growth. Officials from both countries have been noting with growing certainty that the $200 billion turnover goal set by Moscow and Beijing for 2024 may now be achieved earlier than expected.
For more stories on economy & finance visit RT's business section
You can share this story on social media: