US ally resumes imports of Russian oil – data
Japan had stopped importing crude from Russia in May of last year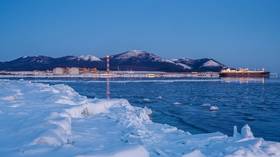 Japan has resumed imports of Russian oil after an eight-month hiatus in deliveries, S&P Global Platts reported this week, citing the country's ministry of economics, trade and industry.
According to preliminary data on crude imports released by the ministry on February 28, Japan received 747,706 barrels of crude in January from the Sakhalin-2 oil and gas project in Russia's Far East. The deliveries were taken by Japan's Taiyo Oil, whose spokesperson said the cargo was part of the remaining crude volume under its 2022 contract.
The January delivery was the first since the just over 650,000 barrels of Russian crude that Japan imported last May. Late last year, Japan joined the price cap on Russian oil imports as part of a coordinated effort to lower Russia's oil revenues pitched by Japan's long-time ally, the US, and supported by the G7, EU, and Australia. However, Tokyo exempted oil imports from the Sakhalin-2 project from the cap, stating that such a move would endanger the country's energy security.
Apart from oil, Sakhalin 2 supplies Japan with liquefied natural gas (LNG), which accounts for roughly 9% of Japan's total LNG imports and 3% of its power supply. Last month, the president of Japan's Petroleum Association, Shunichi Kito, said the country may resume oil imports from the project if it is deemed necessary to ensure uninterrupted LNG supply. According to the economy ministry, the Sakhalin-2 project may have to stop both the production and liquefaction of gas if the oil reservoirs at the site overfill, which could happen if a suspension of shipments leads to crude not being taken out.
However, the reason behind the cap waiver for Sakhalin-2 oil may not be attributable to purely technical concerns. Following the introduction of the price cap, Russian officials have repeatedly warned that countries that adopt the measure may find themselves cut off from Russian oil altogether.
For more stories on economy & finance visit RT's business section
You can share this story on social media: