EU to change focus of Russia sanctions – Politico
Brussels wants to ensure compliance with existing penalties instead of adding new ones, diplomats told the news outlet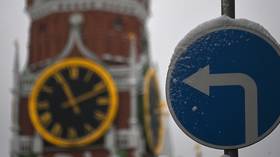 The EU will shift from imposing new sanctions against Russia to enforcing the existing ones, as Brussels faces growing pressure from members of the bloc, Politico reported on Wednesday.
Targets for new sanctions have dried up, making negotiations on further restrictions increasingly complicated with each new round, while penalties on remaining sectors would hurt the bloc more than Russia, the outlet reported, citing diplomats from a dozen member states.
"The EU has been incredibly effective in rolling out ten far-reaching and unprecedented packages of sanctions against Russia," the bloc's new special envoy for the implementation of sanctions, David O'Sullivan, said.
He called the swift adoption of the previous rafts of penalties "a huge achievement" and pointed out that the bloc now had to focus on their effective implementation by tackling "platforms for circumvention." O'Sullivan also revealed that he had already contacted some of Russia's trade partners.
"I have already started my outreach by visiting the United Arab Emirates, together with my US and UK counterparts. Further visits are in the making," the official noted.
Meanwhile, Western sanctions have turned out to be less effective than EU officials projected, as the value of Russian exports to the bloc soared in 2022 compared to the previous year on skyrocketing energy and raw materials prices, Politico pointed out.
Russian oil revenues last year were much higher than reported, as importers of crude have increasingly paid more for the commodity than quoted prices, buffering the impact of Western sanctions, Goldman Sachs said in its recent report.
Despite a sweeping ban on aircraft spare parts, Russia's state-owned carrier Aeroflot continues to fly, with its planes reportedly repaired and maintained in Türkiye, according to Politico.
At the same time, the EU is still reliant on a large number of Russian goods, such as fertilizers that help keep global food prices under control, rare earth metals used in car production, radioactive isotopes used by the pharmaceutical industry, enriched uranium rods and other components for the bloc's nuclear sector, titanium used in aircraft manufacturing, and other essential raw materials.
The bloc itself has left loopholes for the evasion of its own sanctions, the outlet points out, in particular by exempting Bulgaria, Slovakia, and Hungary from an embargo on Russian oil. According to other media reports, a number of European countries have replaced direct Russian crude imports with supplies from Russian-fed refineries using third countries as back doors.
For more stories on economy & finance visit RT's business section
You can share this story on social media: