Russian airlines surviving sanctions – Bloomberg
Restrictions targeting the country's aviation sector have largely failed, the agency claims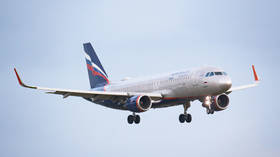 Sanctions against Russian aviation have led to mixed results but have failed to cause the significant pain to the sector that was expected by Western countries, Bloomberg reported on Wednesday, citing industry analysts.
The Ukraine-related sanctions forced two of the world's largest aircraft manufacturers, Boeing and Airbus, to stop doing business in Russia. At the time, over 40% of the aircraft operating in Russia were owned by foreign lessors, which demanded their property back shortly after the restrictions were introduced.
However, Russian air carriers are still operating 467 Airbus and Boeing jets versus the 544 a year ago, according to data from researcher Cirium, as cited by the news agency.
The country's airlines reportedly keep flying the jets without software updates and other forms of support from Boeing and Airbus. Both manufacturers told the agency that they had stopped providing parts, maintenance or technical support to airlines or maintenance companies in Russia.
In February, Russian Federal Air Transport Agency head Alexander Neradko said that Boeing and Airbus planes operated by Russian airlines will be able to fly safely until 2030 if properly maintained.
In an attempt to isolate Russia, the US, EU, and a number of other countries closed their airspace to Russian airlines. However, despite losing many destinations, Russian carriers have reportedly increased the number of flights to Thailand, Türkiye, the United Arab Emirates, Armenia, Kyrgyzstan, and Tajikistan.
According to Cirium estimates, Russian airports are now served by some 270 international flights daily compared to 300 a year ago.
At the same time, Russia's retaliatory measures forced EU and US carriers to make long and expensive detours on flights to Asia. Russian airspace is still open to airlines from nations that opted not to support the sanctions, such as the UAE, which has ramped up service.
"Clearly the sanctions didn't work as the West thought they would, and the global aviation industry is a lot leakier than anyone thought," industry consultant Richard Aboulafia told Bloomberg. "Yes, safety will deteriorate the longer these sanctions go on, but it's clearly not going to bring connectivity within Russia and from Russia to a grinding halt."
For more stories on economy & finance visit RT's business section
You can share this story on social media: