EU official demands free Siberian overflights
A senior transport director insists the royalty should be lifted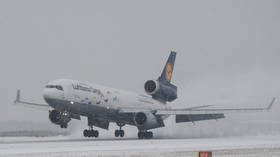 The EU wants Russia to stop charging foreign airlines to use the airspace over Siberia once restrictions on flights imposed as a result of the conflict in Ukraine are lifted, Henrik Hololei, the director general for mobility and transport at the European Commission, said on Monday.
Russian airspace, which spans 11 time zones and provides the shortest route from Europe to Asia, was closed to Western airlines in response to sanctions introduced shortly after the start of Russia's military operation in Ukraine last February.
Hololei repeatedly pointed out the impact caused by the closure of Russian airspace to many Western countries. "If one day we will have the opportunity to see the opening up of Russian airspace, one thing has to disappear: the Siberian overflight royalties," he said at the Airline Economics conference in Dublin.
Deputy Speaker of Russia's upper house of Parliament Konstantin Kosachev has said, however, that there were currently no conditions for discussing the issue and advised EU officials to "make better sense of the mechanism of the 'trans-Siberian royalty'."
He noted that "the case is not about paying for the right of overflying, but about the so-called pool agreements" which are common in international practice as commercial instruments.
Kosachev explained that such agreements have been signed between Russian and foreign airlines that operate flights via the Trans-Siberian routes, assuming that foreign carriers are charged for the use of aviation infrastructure during the flight. In return, they shorten their route and save money.
EU countries and a number of other Western states closed their airspace to Russian flights as part of Ukraine-related sanctions. Russia responded in kind, banning the airlines of 36 states and territories from its skies and, in so doing, closing the traditional routes from Europe to Asia to Western carriers.
For more stories on economy & finance visit RT's business section
You can share this story on social media: