Britons warned over energy bills
Consumers may have to pay more as the UK risks failing to meet its goal of decarbonizing the power grid, a watchdog says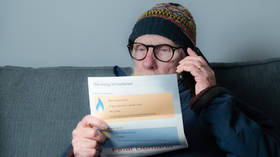 Household bills in the UK could rise if the government further delays its plan to abandon fossil fuels in the country's power network, the National Audit Office (NAO) warned on Wednesday, according to Sky News.
Officials reportedly committed to the target almost 18 months ago, but the plan to deliver it was delayed by the energy crisis as they focused instead on tackling soaring bills.
However, further delays with the plan to decarbonize the grid could drive up household bills even further, the NAO warned.
"The longer it takes before government finalizes its delivery plan, the greater the risk that it won't achieve that ambition to decarbonize power by 2035, or that doing so will cost consumers more," the NAO's director of value for money studies, Simon Bittlestone, told Sky News.
The report indicated that Britain's outdated grid is already costing taxpayers, and the situation could worsen. It specified that when power generated from a plant exceeds demand, or what the grid can accommodate, energy companies have to limit production, with costs passed on to the consumer.
According to official data, demand for electricity in the UK is expected to soar 60% by 2035 as the economy continues to shift away from fossil fuels. Meanwhile, some 40% of the country's electricity is currently generated by fossil gas.
To meet the growing demand, the government will reportedly need to significantly ramp up renewable wind and solar power. That includes building three times as much offshore wind capacity in eight years as in the last two decades, the NAO said.
"We have launched world-leading blueprints, such as our British Energy Security and Net Zero Strategies, with many plans already implemented to ensure we are on track to achieve our 2050 net zero target," a spokesperson for the Department for Energy Security and Net Zero told Sky. Even though the targets are ambitious, "we haven't taken our foot off the pedal and our commitment to decarbonize the UK's electricity system by 2035 remains resolute," the spokesperson added.
For more stories on economy & finance visit RT's business section
You can share this story on social media: