British energy producer announces mammoth profits
Centrica's annual revenues have tripled as a result of higher prices for consumers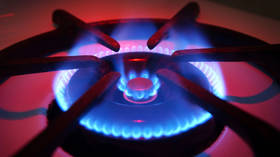 UK oil and gas producer Centrica, which owns services provider British Gas, has reported record profits for the 2022 financial year, becoming the latest energy giant to benefit from soaring costs.
According to a company report on Thursday, operating profits jumped to £3.3 billion ($4 billion) from £948 million ($1.1 billion) a year earlier, surpassing the firm's previous record annual profit of £2.7 billion ($3.2 billion), recorded in 2012.
Centrica announced it would hand £750 million ($900 million) of its profits to shareholders. The dividend for the year will be worth more than £200 million ($240 million), while a further £300 million ($360 million) will be spent boosting its share price by buying back its own stock. The sum comes on top of a £250 million ($300 million) share buyback already announced, which means Centrica will own 10% more of all shares currently issued.
The record-breaking figures have triggered renewed calls for tougher taxes on bumper profits for energy providers, with Trades Union Congress (TUC) General Secretary Paul Nowak urging public ownership. "While millions of families struggle to heat their homes, firms like Centrica are raking in monster profits," Nowak said.
The general secretary of the Unite union, Sharon Graham, echoed Nowak's words, describing the profits as obscene. "These energy companies are showing us everything that is wrong with the UK's broken economy," she said.
According to Centrica accounts, the energy giant paid £1 billion ($1.2 billion) in tax during the 2022 financial year.
Data by the International Energy Agency (IEA) showed that global gas and oil profits went from a recent average of $1.5 trillion to $4 trillion last year alone.
Last week, United Nations Secretary General Antonio Guterres called out oil companies for raking in "monster profits" and expanding production instead of focusing on renewable energy.
For more stories on economy & finance visit RT's business section
You can share this story on social media: