Russia's oil output hits pre-sanctions high – Kommersant
Production has been on the rise to meet booming demand in Asia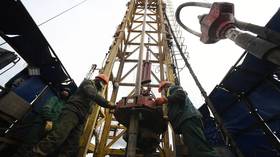 Russian energy companies in February increased the average daily production of crude oil and condensate by almost 2% compared to the previous month, to 1.508 million tons per day, Kommersant reported on Tuesday, citing people familiar with the matter.
The Russian newspaper report indicated that oil output in February reached the pre-sanctions level for the first time, and may exceed the February 2022 figure.
The country's output has gradually recovered after plummeting last March as a result of Western restrictions, the media outlet wrote.
According to the International Energy Agency (IEA), Russian oil production and exports have held up "much better than expected" in recent months despite bans and price caps targeting the industry. The head of the IEA's oil industry and markets division, Toril Bosoni, explained to CNBC earlier this month that this was due to Moscow's success in rerouting much of the crude previously shipped to the EU to new markets in Asia.
China, India and Türkiye in particular have boosted purchases to partially offset the fall in Russian crude exports to the EU, the agency noted. It also suggested that the EU and G7 price caps may also be helping to bolster Russian exports, as Moscow was forced to sell its Urals oil at a lower price to those countries complying with the caps, potentially making it more attractive than crude from other sources.
The EU and G7 nations have introduced a price ceiling on Russian petroleum products, of $100 per barrel for diesel, jet fuel, and gasoline, and a $45 per barrel for other oil products that trade below the crude price. Fuel exports priced over these limits are barred from receiving insurance and shipping services from companies in Western countries. The restrictions followed a $60 price cap on seaborne oil exports as part of the EU's sixth package of Ukraine-related sanctions imposed on Moscow.
The Russian government has forbidden any oil deals under the price cap scheme. Earlier this month, Moscow unveiled plans to curb oil production by 500,000 barrels a day, or about 5%, in March, in retaliation for Western sanctions.
For more stories on economy & finance visit RT's business section
You can share this story on social media: