Western sanctions helped Russia find new oil markets – IEA
China, India and Türkiye have boosted imports to partially offset a drop in Russian crude shipments to the EU, a survey has shown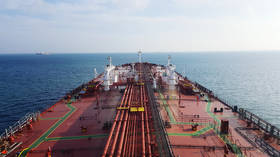 Russian oil exports surged to an all-time high last month despite the Western embargo on the country's seaborne crude imposed in December, the International Energy Agency (IEA) revealed in a report on Wednesday.
The country's oil deliveries jumped by 300,000 barrels per day (bpd) in January compared to the previous month, reaching 8.2 million bpd, proving that product exports are holding steady, according to the IEA.
Shipments of petroleum products remained unchanged last month and totaled 3.1 million bpd ahead of the Western embargo on Russian refined oil, which kicked in along with a price cap on February 5.
The EU and G7 nations have introduced a price ceiling on Russian petroleum products, setting a limit of $100 per barrel for diesel, jet fuel, and gasoline, and a $45 per barrel cap for other oil products that trade below the crude price. Fuel exports priced over these limits are barred from receiving insurance and shipping services from companies in Western countries.
Russian oil exports to the EU were down two-thirds from pre-conflict levels at 1.3 million bpd, the IEA estimated. However, Russian crude flows to China rose by 300,000 bpd to 2.1 million bpd in January, their highest level on record, the agency said.
The price cap mechanism has resulted in Russia rerouting its supplies, with India and China becoming top buyers of its crude, they added.
"Moscow, for now, has successfully re-routed shipments of crude to Asia and the G7 price cap on crude oil appears to be helping to keep the barrels flowing," the report said.
The head of the oil industry and markets division at the IEA, Toril Bosoni, told CNBC on Wednesday that Russian oil production and exports have held up "much better than expected" in recent months.
"The price cap on crude oil that came in December has allowed the rerouting of a lot of the crude that previously went to Europe to new markets in Asia and for that trade to use EU maritime services. And that helped facilitate some of the reallocation of trade," she added.
China, India and Türkiye ramped up purchases to partially offset the 400,000 bpd fall in Russian crude exports to Europe in January, according to the IEA. Some Russian oil is also still making its way to Europe through the Druzhba pipeline to Hungary and Bulgaria, both of which are exempt from the EU embargo.
For more stories on economy & finance visit RT's business section
You can share this story on social media: