Russia finds answer to IKEA exit – media
The Swedish furniture maker has closed stores and sold factories to local buyers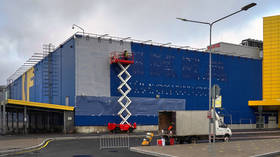 Belarusian furniture maker Swed House is planning to fill the void left by IKEA in the Russian market, the head of the Union of Shopping Centers Bulat Shakirov said on Monday, as quoted by TASS.
Under the terms of a cooperation agreement signed between the organization and Swed House, which sells home goods intended to look like IKEA products, the Belarusian company is expected to open up to ten stores in Moscow by the end of the year. Another 50 outlets could open across the country in the coming years.
Swed House is looking at opening stores in Moscow with the area up to 1,000 square meters, according to Shakirov, who also said the union had started negotiations for the Belarusian firm to become a tenant of Mega shopping centers, which were sold by IKEA.
"We have recently received over 100 requests from shopping malls that want to host them. It doesn't matter where it will be located – in the center of Moscow, on the Moscow Ring Road or in residential areas," he said, adding that home products and textiles will inevitably enjoy demand.
In March, Ingka group, the Swedish company that owned IKEA stores and Mega shopping centers in Russia, joined a long list of international corporations suspending business in the country due to Ukraine-related sanctions.
The world's biggest producer of furniture said it would sell factories, close offices and reduce its 15,000-strong workforce in Russia. It reopened for a brief online fire sale last summer.
Local media had previously reported that the company was looking for buyers for its Russian real estate. Meanwhile, the sale of IKEA's three factories were approved by a Russian government commission earlier this month.
For more stories on economy & finance visit RT's business section
You can share this story on social media: