IKEA parent company to offload all Russian property – media
The move would see the retail giant completely withdraw from the country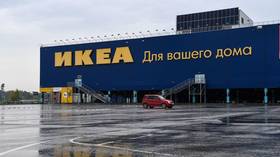 Swedish company Ingka Group, the owner of IKEA stores and Mega shopping malls in Russia, plans to sell all its real estate in the country, RBK reported on Friday, citing sources in the retail market.
According to the news outlet, the company has begun its search for a buyer for its entire real estate portfolio, which equates to more than 2.3 million square meters of property. That includes 14 Mega malls, 17 IKEA stores, and several plots of land on which construction was planned but has not yet begun. Sources said the company is already in talks with at least two potential buyers. According to INFOLine-Analytics data, the value of Ingka Group's real estate portfolio in Russia is at least $5 billion.
Ingka Group is the largest owner of retail real estate in Russia and one of the biggest shopping center owners in the world. The company's press service declined to comment on what it called "market rumors," adding that its Mega malls are still operating and that the company is focused on "ensuring the safety of operations and the quality of customer service." All IKEA stores in Russia have remained closed since last year, a decision made under sanctions pressure following the start of Moscow's military operation in Ukraine.
According to Marina Malakhatko, head of the retail department at consulting company CORE.XP, Ingka Group's decision to sell off its Russian retail real estate may stem from concerns over profitability. While its shopping centers did not suffer significantly even during the Covid-19 pandemic, the Ukraine crisis and Western sanctions "brought fundamental changes to the company's business," making it "too risky" to stay in the Russian market, Malakhatko said.
Numerous companies, including some which rented space in Mega malls, have been forced to stop business in Russia due to sanctions. Malakhatko noted that over the past year, Mega has lost up to 50% of brands it formerly cooperated with. Due to the closure of IKEA stores, Mega malls have also lost a large portion of customers.
Malakhatko said Ingka Group's property in Russia is an attractive asset, but "due to its size, such a deal is on the verge of being a fantasy." The best option, she believes, would be to divide the portfolio and offer separate shopping centers in the regions to various investors.
IKEA, from which Ingka Group evolved, recently decided to sell its factories in Russia, where it had produced lumber and furniture fronts for its stores. A government commission has already approved the sale of the three facilities to two local buyers, Russian kitchen worktop manufacturer Slotex and lumber producer Luzales.
For more stories on economy & finance visit RT's business section
You can share this story on social media: