Britain and EU may finalize crucial Brexit issue
After months of talks, the two sides are expected to reach an agreement on Northern Ireland's trading arrangements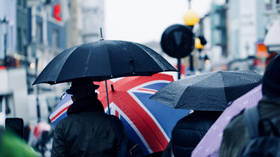 British Prime Minister Rishi Sunak and European Commission President Ursula von der Leyen will meet in the UK on Monday for final talks on a deal to resolve the Northern Ireland Protocol, which is part of the Brexit deal on trade rules for the region.
In a joint statement on Sunday, Sunak and von der Leyen said they had "agreed to continue their work in person towards shared, practical solutions for the range of complex challenges around the protocol on Ireland and Northern Ireland."
Under the terms of the protocol agreed by former prime minister Boris Johnson, Northern Ireland – which is part of the UK – will be inside the EU's single market for goods. That means products arriving into Northern Ireland from the rest of the UK are subject to checks and controls. Northern Ireland has a land border with the Republic of Ireland, which remains part of the EU. Before Brexit, it was easy to transport goods across this border because both sides followed the same EU rules.
All this has led to political instability in Northern Ireland after the Democratic Unionist Party (DUP) withdrew from the Stormont Assembly in protest at checks on arriving goods. It also disagreed with the continuing role of the European Court of Justice (ECJ) in the region.
The new negotiations between Sunak and von der Leyen are aimed at easing the strict border rules. However, Sunak will need to convince his own party to vote for any prospective deal in parliament.
Jonathan Buckley, a DUP member of the Stormont Assembly, tweeted on Sunday that the party would judge any deal "wholly on its specific legal content."
"Getting it wrong will only deepen divisions," he claimed.
Meanwhile, an unnamed EU diplomat told the Financial Times that "this is the closest we've been to putting the issues with the protocol to bed, which would allow us to move the relationship with the UK into a much more constructive framework."
For more stories on economy & finance visit RT's business section
You can share this story on social media: