Brexit cost to UK economy revealed
Over $35 billion in business investment has reportedly been wiped out since the country's withdrawal from the EU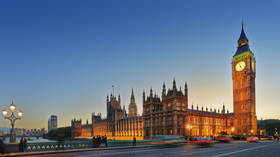 Britain's departure from the European Union has cost the nation £29 billion (over $35 billion) in business investment and has aggravated a slowdown in productivity, according to a new study by Jonathan Haskel, an external member of the Bank of England's (BoE) Monetary Policy Committee.
The research showed that the lack of business investment growth since the 2016 referendum was equivalent to 1.3% of the UK's gross domestic product, or about £1,000 ($1,221) per household.
By the end of the BoE's forecast period in 2026, the gap between current levels of business investment and those before 2016 rose to 2.8% of GDP, "which is very close to the 3.2% number we found using the totally different methodology based on goods trade volumes," Haskel said.
Private sector investment in the country "stopped in its tracks" in the years following the decision to quit the EU, according to him.
The BoE's rate setter pointed out that in the aftermath of the vote, the UK immediately began to fall behind the trend of the previous six years and "suffered much more" when compared with other major industrialized economies.
Haskel's comments follow BoE's policymaker Catherine Mann's statement earlier this month that the UK's withdrawal from the EU free-trade area was to blame for the country's excess inflation.
UK inflation, which hit a four-decade high of 11.1% last year, has cooled slightly to 10.5% amid a decline in global energy prices, but was still well above the BoE's 2% target.
For more stories on economy & finance visit RT's business section
You can share this story on social media: