Crypto platforms in no rush to shun Russia – Politico
A number of major exchanges reportedly still transact with cards issued by sanctioned Russian lenders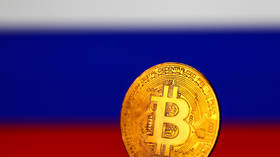 Seychelles-based crypto exchanges Huobi and KuCoin have so far failed to take steps to block Russian banks from their platforms despite sanctions, Politico reported on Saturday, citing blockchain analytics firm Inca.
According to the report, both still allow traders to transact with cards issued by sanctioned Russian banks on their peer-to-peer platforms, including the country's largest lender Sber Bank. According to Inca CEO Adam Zarazinski, allowing crypto buyers trade with each other using accounts at sanctioned banks is a "direct violation of US and European sanctions with a little bit of a loophole." Neither Huobi nor KuCoin have so far commented on the report.
US policymakers have long accused the crypto industry of being one of the instruments for sanctioned Russians to bypass restrictions. Inca's report also pointed to potential vulnerabilities in two other major exchanges, Binance, the world's largest cryptocurrency trading platform, and Singapore-based ByBit, which allegedly offer Russians "many ways" to convert Russian rubles into cryptocurrency.
"Many exchanges officially curtailed their operations in Russia due to the imposed sanctions. They claimed to block users from Russia and to prevent them from opening new accounts," the report states, noting that instead, most of them continued to work with Russian citizens, including allowing them to use the maximum deposit, trading, and withdrawal limits.
Binance slammed the report as "categorically false" in a statement later on Friday.
"Binance is a full-KYC [know your customer] platform and was the first major exchange to implement EU crypto-related sanctions… [It] takes the extraordinary additional step of filtering any forms of communication between users to ensure there is absolutely no potential nexus with Russian entities through any sort of workaround," Binance's global head of sanctions Chagri Poyraz was cited as saying.
On Friday, the US Treasury revealed that sanctions target more than 80% of Russia's banking sector in asset value. It also expanded sanctions against 11 more Russian banks, including Moscow Credit Bank, Uralsib Bank, MTS Bank, Zenit Bank and Bank St. Petersburg. The EU introduced similar measures over the past year, and imposed a sweeping ban on providing crypto services to Russians as part of its eighth round of sanctions, approved in October. Following the move, several major platforms banned access for Russians, including Canadian NFT-marketplace Dapper, Swiss company YouHodler, wallet Cryptopay and Finnish exchange LocalBitcoins.
For more stories on economy & finance visit RT's business section
You can share this story on social media: