Washington reveals scope of Russia sanctions
The restrictions affect over 80% of the country's banking sector, according to officials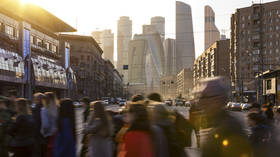 Washington added around 15 additional Russian financial institutions to its sanctions blacklist on February 24, the first anniversary of Moscow's military operation in Ukraine. It broadens the scope of restrictions that already target more than 80% of Russia's banking sector in asset value, the US Treasury has announced.
According to the department, it has implemented more than 2,500 sanctions since the beginning of the conflict in February 2022.
"Russian banks representing over 80% of total Russian banking sector assets are already subject to US and international sanctions. OFAC today is designating over a dozen financial institutions in Russia, including one of the top ten largest banks by asset value," the Treasury said in a statement.
It noted that many of the newly sanctioned entities are smaller banks and wealth-management firms allegedly helping previously blacklisted organizations to evade restrictions. They include Credit Bank of Moscow, Lanta Bank, MTS Bank, Bank Saint-Petersburg, Bank Primorye and Uralsib, as well as wealth-management-related entities CONFIDERI and Veles Capital. Overall, the new sanctions target 22 Russian individuals and 83 entities.
The Treasury also noted that, over the past year, Washington had "designated over 200 targets associated with Russian sanctions evasion" in Europe, Africa, and Asia, "including key transshipment jurisdictions in the Middle East, the Eurasian Economic Union, and East Asia." Sanctions also targeted nearly a fifth of the Belarusian financial sector for its support for neighboring Russia.
Pressured by sanctions, "more than 1,000 foreign companies reportedly have ceased or curtailed their operations in Russia" since the start of the military operation, the Treasury said.
In response to the new sanctions package, Russian Ambassador to the US Anatoly Antonov called the measures "thoughtless."
"Does anyone really think that this is the way to get our country to abandon its independent policies, to force it off its chosen path towards building a multipolar world based on the principle of indivisible security, on international law and the UN Charter?" he said, according to a post on the embassy's Facebook page.
For more stories on economy & finance visit RT's business section
You can share this story on social media: