Japan touts new anti-Russia sanctions
The restrictions will target Russian assets and trade, the foreign ministry says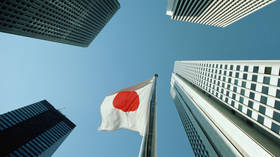 Tokyo is planning to impose new sanctions on Russia, Japanese Prime Minister Fumio Kishida announced during a virtual G7 summit on Friday.
The new package of restrictions will focus on trade, expanding the list of Russian organizations to which exports will be prohibited, according to the Japanese Ministry of Foreign Affairs.
It will also increase the range of products banned for export to Russia and is expected to include drone parts. Tokyo also plans to freeze the assets of more Russian individuals, organizations and financial institutions.
No further details on the new measures or the date on which they will be adopted were disclosed in a statement on the outcome of the G7 meeting, which was published by the foreign ministry.
Japan has already adopted several batches of anti-Russia sanctions since the start of Russia's military operation in Ukraine one year ago. Tokyo has so far blocked the assets of 892 Russian individuals and 83 entities, including banks. It has also imposed an export ban on 363 defense-related Russian organizations, companies and institutions.
It also prohibited exports of semiconductors, oil production equipment, luxury goods, quantum computers and 3D printers to Russia, and placed a ban on imports of Russian gold, machine tools, some types of wood, and vodka. A ban was imposed on new investments and the provision of some financial services to Russian entities.
Despite the sanctions, Russia remains one of the major suppliers of liquefied natural gas (LNG) to Japan, accounting for about 9% of Japanese imports of the fuel, while Russian gas is used for 3% of electricity generation in Japan. Tokyo has also retained its stakes in Russian oil and gas projects in the Far East – Sakhalin-1 and Sakhalin-2 – which it views as strategically important for the country's energy supply.
For more stories on economy & finance visit RT's business section
You can share this story on social media: